Cursed Treasure 2 game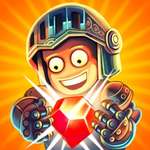 Play
The hordes of good heroes come again once more! And they are hungry for gems more than ever because The King himself wants the stones for his private needs. Gather the evil forces, build towers, upgrade, drink soda, cast the mighty spells, do whatever you can but don't let them touch your gems!
Cursed Treasure 2, play free treasure games, related games and updates online. Added on 2020/09/22, played 4,225 times. Author gd 11738. Game rating 4.2 out of maximum 5, based on 5 user opinion. Rate this game
How to play Cursed Treasure 2?
Use mouse Hotkeys: 1 – build Den 2 – build Crypt 3 – build Temple W – cast Terror spell E – cast Meteor spell Hold Space for 3x speed Enter, Z, X, T – next wave
This game can be played on mobile phone or tablet. Scan QR code to play on mobile.
Do you like this game?
Related games
Treasure Games