Homescapes game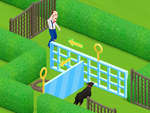 Play
It is an adventure puzzle game. The lover of middle-age man has been robbered, she is Imprisoned in a garden with lots of elaborate traps. Choose which doors are open carefully. Every choice will deide your life. Avoid dangerous apparatus, kill the robbers and dogs. Help this poor man to save his lover!
Homescapes, play free escape games, related games and updates online. Added on 2020/11/03, played 2,386 times. Author gd 14647. Game rating 3.8 out of maximum 5, based on 13 user opinion. Rate this game
How to play Homescapes?
click to open the gates
This game can be played on mobile phone or tablet. Scan QR code to play on mobile.
Do you like this game?
Related games
Escape Games