Kid Games Learn with Funny Animals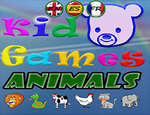 Play
This game offers the possibility of interacting with animals while we play different and fun educational games. With a simplistic and colorful menu, we will learn to look for animals, differentiate the sounds they emit, interact with them through the touch screen of your mobile or tablet and have fun playing the game of bubbles! Full of children's music and colors, Kid Games animals offers the support of attention and cognitive stimulation so young children need.
Kid Games Learn with Funny Animals, play free card games, related games and updates online. Added on 2021/01/06, played 0 times. Author gd 4392. Rate this game
Find more games in related categories
This game can be played on mobile phone or tablet. Scan QR code to play on mobile.
How to play? Version 2.0! Select a language: English, Spanish or French! With a simplistic menu, we click on one of the four games and play. Card game: we guess the couple of each animal hidden behind the cards. Game find: we drag with the mouse the animal until the corresponding figure. Game listen: we listen to the sound of the animal and choose the one that corresponds. Bubbles game: we have fun exploding bubbles and saving 10 animals from each one inside.
Do you like this game?
Related games