Microsoft Solitaire game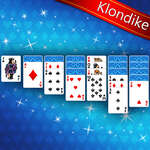 Play
Play Klondike, Spider, FreeCell, Pyramid, and TriPeaks. Plus, Daily Challenges. Solitaire remains the most played computer game of all time, and for good reason. Simple rules and straightforward gameplay makes it easy to pick up for everyone. Solitaire has been part of Windows for more than 30 years, and The Microsoft Solitaire Collection makes it the best experience to date with five different card games in one.
Microsoft Solitaire, play free solitaire games, related games and updates online. Added on 2022/02/04, played 76 times. Author gd 12506. Rate this game
Find more games in related categories
This game can be played on mobile phone or tablet. Scan QR code to play on mobile.
How to play? Klondike: This version is the timeless classic that many people just call "Solitaire". Spider: Eight columns of cards await your attempts to clear them with the fewest moves possible. FreeCell: Use four extra cells to move cards around as you try to clear all cards from the table. Pyramid: Pair two cards that add up to 13 in order to remove them from the board. TriPeaks: Select cards in a sequence, either up or down, to earn points and clear the board.
Do you like this game?
Related games