Bubble Shooter Wheel game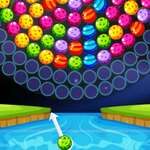 Play
This is a special bubble shooter game in which you will find a rotating wheel of bubbles. To complete the game you need to collect all the bubbles on the wheel. Shoot the bubble towards the wheel to make the group of at least three bubble of the same color. Your points are reducing with the time, So finish the game early to save more points.
Bubble Shooter Wheel, play free bubble shooter games, related games and updates online. Added on 2021/08/01, played 313 times. Author gd 14677. Game rating 1 out of maximum 5, based on 1 user opinion. Rate this game
How to play Bubble Shooter Wheel?
Use mouse or touch screen to play this game.
This game can be played on mobile phone or tablet. Scan QR code to play on mobile.
Do you like this game?
Related games

Bubble Shooter Games