Popit vs Spinner game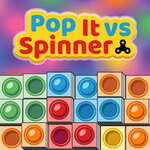 Play
Try to remove all the popits in those 3 levels by matching at least 2 of the same tiles at once. Use the spinner mode when no matches are left to generate new ones and clean the whole level.
Popit vs Spinner, play free mahjong games, related games and updates online. Added on 2021/09/05, played 159 times. Author gd 12797. Rate this game
Advertisment
How to play Popit vs Spinner?
Use the mouse or the finger to remove matching pairs.
Find more games in related categories
This game can be played on mobile phone or tablet. Scan QR code to play on mobile.
Do you like this game?
Related games