Robot Wars game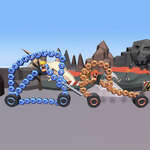 Play
This is a popular hand game recently, magic play, this game belongs to a duel type game, casual games, you can play your offensive ability and painting ability, play your imagination to create.
Robot Wars, play free mobile games, related games and updates online. Added on 2022/10/08, played 3 times. Author gd 13555. Rate this game
Advertisment
How to play Robot Wars?
1. Draw a chariot with your finger, and then give full play to your fighting advantage at will;2. Then the way of attack is also diversified. Click the screen to attack your enemy;3. The background of the level can be switched at will, and then fight continuously to become the final winner.
Find more games in related categories
This game can be played on mobile phone or tablet. Scan QR code to play on mobile.
Do you like this game?
Related games