Solitaire Seasons game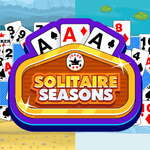 Play
You need to go through all 40 levels to open all four windows, each of which goes into its own season. Use jokers to simplify the process. In addition to the usual jokers in the game there are jokers for each suit
Solitaire Seasons, play free solitaire games, related games and updates online. Added on 2023/03/12, played 63 times. Author gd 14677. Rate this game
How to play Solitaire Seasons?
You have to draw cards one at a time from your stockpile. Select the cards that are one higher or one lower in value to your drawn card to remove it from the playing field. To complete a level you need to remove all the cards from the playing field without running out of cards from your stockpile.
This game can be played on mobile phone or tablet. Scan QR code to play on mobile.
Do you like this game?
Related games

Solitaire Games