Fun Race 3D game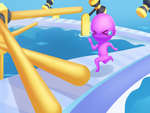 Play
Fun Race 3D is a cool and interesting 3D racing game, you need to control your character to run in this dangerous place. Compete with others, try to reach the destination in the first place is your mission. There are so many interesting skins and dancing postures, collect them and enjoy the Fun Race 3D!
Fun Race 3D, play free 3d games, related games and updates online. Added on 2020/07/25, played 911 times. Author gd 12528. Game rating 5 out of maximum 5, based on 5 user opinion. Rate this game
Find more games in related categories
This game can be played on mobile phone or tablet. Scan QR code to play on mobile.
How to play? Mouse click or tap the screen to play
Do you like this game?
Related games