Bloo Kid 2 game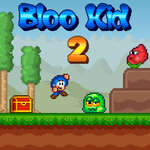 Play
After rescuing his girlfriend from the hands of the evil wizard, Bloo Kid and Pink Girl enjoy life with their newborn "Pink Kid". But then, a whole new adventure starts just out of the bloo. Bloo Kid 2 is a classic 2D retro-style platformer experience with lovely designed pixel-graphics and a full chiptune soundtrack. Run, jump and swim your way through FIVE huge worlds with twelve levels each. Master brutal bossfights and discover lots of secrets in the world of Bloo Kid 2.
Bloo Kid 2, play free mario games, related games and updates online. Added on 2021/08/13, played 386 times. Author gd 14677. Game rating 3 out of maximum 5, based on 2 user opinion. Rate this game
How to play Bloo Kid 2?
The game can be controlled with the arrow buttons or the onscreen controls. Press Left / Right to move Press Up to jump Press Down to leave platforms Press Up while in the air for a double jump Press Up while in water to swim Destroy enemies by jumping on them
This game can be played on mobile phone or tablet. Scan QR code to play on mobile.
Do you like this game?
Related games
Mario Games