Super Onion Boy game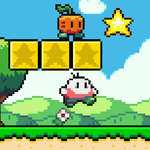 Play
Super Onion Boy is a fun platform game, your mission is to save the princess from the terrible monster that imprisoned her in a magic bubble, defeat all the monsters along the way and dodge obstacles until you reach the final boss and save the princess!
Super Onion Boy, play free platform games, related games and updates online. Added on 2020/08/10, played 6 times. Author gd 3545. Rate this game
Find more games in related categories
This game can be played on mobile phone or tablet. Scan QR code to play on mobile.
How to play? Arrow keys to move • Z to jump • X to fire • P to Pause/Menu • Mouse or Touch to Start • Mobile - Touch to Play
Do you like this game?
Suggested games
Related games