Hamster Pop game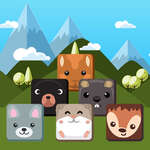 Play
Exercise your brain and clear the levels of cute hamsters by moving them onto the bottom of the screen. There is limited space for that, but three of the same animals are removed from the storage.
Hamster Pop, play free mahjong games, related games and updates online. Added on 2022/07/30, played 2 times. Author gd 13093. Rate this game
Advertisment
How to play Hamster Pop?
Simply tap on the selected animal block and it will be moved to the bottom of the screen. If there are three of the same animals at the bottom, you score and the hamsters are removed. If you run out of store space, the game ends.
Find more games in related categories
This game can be played on mobile phone or tablet. Scan QR code to play on mobile.
Do you like this game?
Related games