Stickman Army The Resistance game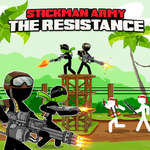 Play
A crowd of renegade stickman have started to invade the jungle and kill people. The last hope of the region is its best army team ! You are a team of 2 super well trained soldiers. You are in command of a number powerfull weapons that can stop the revolutionaries. You can end this war. But this is going to be an epic battle. You must protect your position. Whatever happens !
Stickman Army The Resistance, play free army games, related games and updates online. Added on 2020/11/22, played 45 times. Author gd 9688. Rate this game
Find more games in related categories
This game can be played on mobile phone or tablet. Scan QR code to play on mobile.
How to play? Use Moue or Touch the screen. Follow the in-game tutorial. You must defend your position against revolutionaries and renegades. Lead your team to the final victory. You have a tons of different weapons available: gun, machine gun, bazooka, rifle, sniper rifle, kalashnikov, flame thrower, rocket launcher, heavy weapons, shotgun, the big bertha, bombs, barbed wire, mines, sandbags, defense's turret . and so many more
Do you like this game?
Suggested games
Related games